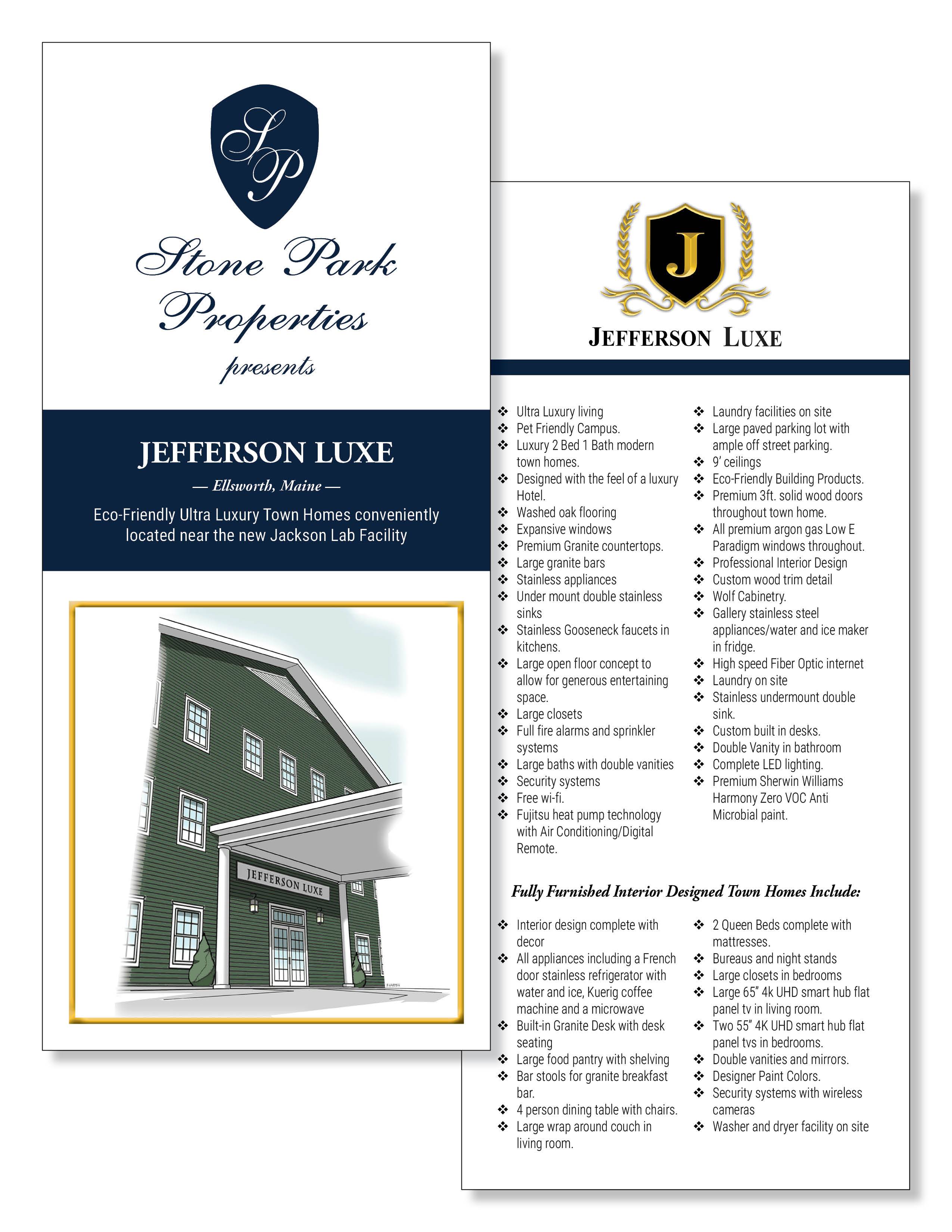 Coming 2020-2o21!
2 Bedrooms, 1 Bath

Ellsworth, ME 04605

Jefferson Luxe
Eco-Friendly Ultra Luxury Town Homes conveniently located near new Jackson Lab Facility 
Ultra Luxury living 
Pet Friendly Campus 
Luxury 2 Bed 1 Bath modern town homes 
Designed with the feel of a luxury Hotel.
 Washed oak flooring
 Expansive windows
Premium Granite countertops. 
 Large granite bars
 Stainless appliances
Under mount double stainless sinks
 Stainless Gooseneck faucets in kitchens. 
 Large open floor concept to allow for generous entertaining space. 
 Large closets
 Full fire alarms and sprinkler systems 
 Large baths with double vanities 
 Security systems
 Free wi-fi.
 Fujitsu heat pump technology with Air Conditioning/Digital Remote. 
 Laundry facilities on site
Large paved parking lot with ample off street parking.
 9′ ceilings 
 Eco-Friendly Building Products.
Lease: 6-month and 12-month leases available
Pet Policy:
No more than 2 cats and/or dogs may reside in one house/town home unit.
The size of the animal cannot exceed the size of a full grown Labrador Retriever.
Each tenant who wishes to keep a dog or cat must pay a $300 pet deposit per pet; payable when lease is signed or when a pet is added to your household. The pet deposit is non-refundable
Parking: Ample on-site parking